Waste management logistics systems in buildings are one of the modern trends in the technical equipment of buildings, and today's architecturally perfectly designed buildings actually require these modern technologies.
Efficient solutions for buildings
Today's times are characterized by the utmost emphasis on efficient and "responsible" solutions to a wide range of issues that arise for us as a society along with the ever-increasing population, its lifestyle and the habits created by this lifestyle.
The fact that the number of products and various "consumables" is growing along with the growing population is a sober reality. One can thus only agree with the rising trends leading to the sorting and subsequent recycling of a wide range of materials left all around us in the form of waste. Commercial and residential buildings are thus becoming the "primary sources" of waste for the entire recycling process, and our conscience or legislation will sooner or later force them to take action leading to responsible waste management.
The legislation already deals primarily with the issue of sorting waste according to the way in which it is subsequently processed.  It is perhaps only a matter of time when it will be commonplace for these "primary sources" to pass on their waste in a form that is sorted and prepared for the next chain of waste management processes.
Building owners and operators are naturally looking for ways to handle waste efficiently through waste management logistics systems for buildings.
At present, it is no longer a utopian vision for waste to be sorted into waste sorting bins, which makes it as easy as possible to move this sorted waste to the technical room, and from there, directly to the processors in its compressed form. Thinking about the waste management efficiency of a building is just as natural as thinking about energy solutions for a building.
ARGUMENTS FOR GRAVITY-FED GARBAGE CHUTES:
(as opposed to other ways of transporting waste in buildings)
it is an effective, efficient and aesthetically pleasing solution
its purchase costs are significantly lower the costs of installing an elevator
you save on the costs of transporting waste away from the building
it is a hygienic solution for the waste management of buildings
safe operation
easy and fast installation – high variability
unlimited service life
fire safety
---
SUMMARY OF CHARACTERISTICS
In practice, a COMPREHENSIVE BUILDING WASTE MANAGEMENT LOGISTICS SYSTEM is used mainly when various types of waste are handled and laundry is transported to a laundry room or technical room.
Gravity-fed chutes are the backbone of any consistent logistics system in buildings. In principle, they serve the same purpose for both waste and laundry handling. They differ only in the details (in particular the diameter of the chute tube, the permeability of the chute door and the solution for the outlet), which facilitate the handling of whichever material it may be.
---
WASTE CHUTES
In particular for offices, office buildings, banks, hotels, hospitals, nursing homes, residential units, etc.
Waste sorting begins at every workplace or in every room. Thorough waste sorting is significantly facilitated by waste bins that are adapted for that express purpose. They have compartments or several separate boxes for each waste group. In most cases, these compartments also have auxiliary illustrative pictograms or visible inscriptions designating the waste type that is to be stored in the individual boxes. On each floor, there are waste collection trolleys used to transport waste that has already been sorted to the door of the gravity-fed chute. Waste collection trolleys are not used in buildings with residential units, but bags containing normal household waste are thrown directly into the gravity-fed chute. In optimal cases, the gravity-fed chute leads to a technical room equipped with means for the final waste processing step. Bags with sorted waste (differentiated, for example, by the colour of a bag, a coloured marking on the bag, etc.) are fed down through the chute and are then pressed according to the waste group. The result is neat, easy-to-handle and tradable waste bales.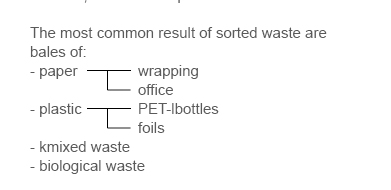 Depending on the type of pressed material and pressing machine, you can compress the volume of the original waste by:
5 to 20x!
For the optimal pressing of waste bales, we produce a wide range of presses with various outputs.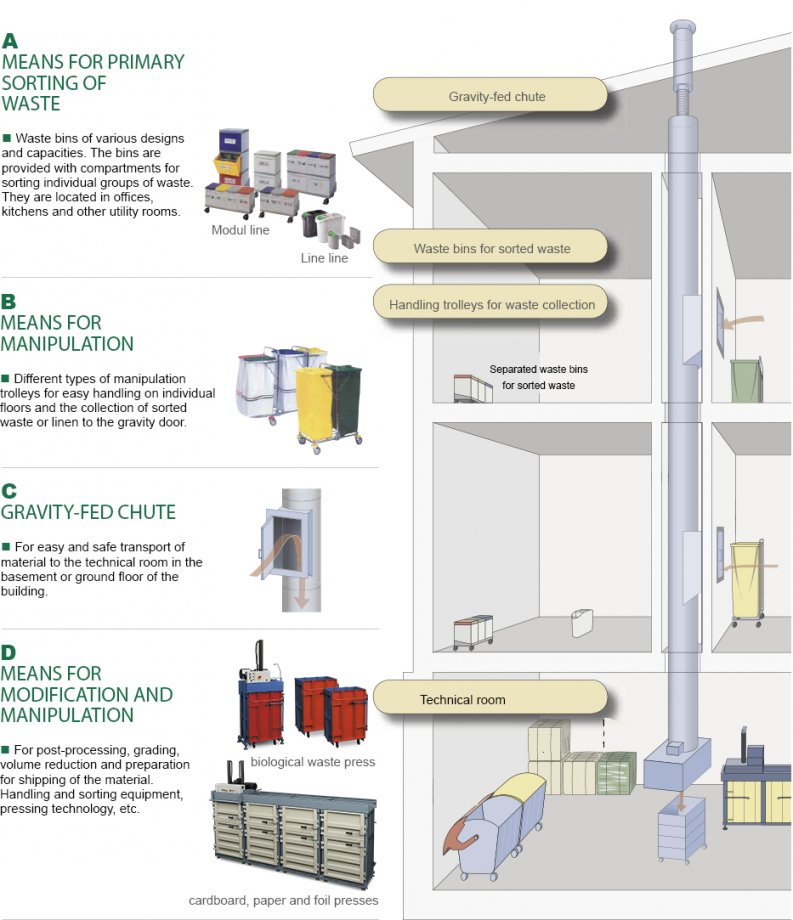 Laundry chutes